Commissioned Designs
you are here:
Home
>>Commissioned Designs
EXCLUSIVE TO YOU AND YOUR ORGANIZATION!

We kindly hope our customers to describe their needs or send sample to us. Our engineers and designers have solid experience in building bronze tackle and brass parts for different markets. They will help you turn your drafts into finished products and produce them in China.
PROJECTS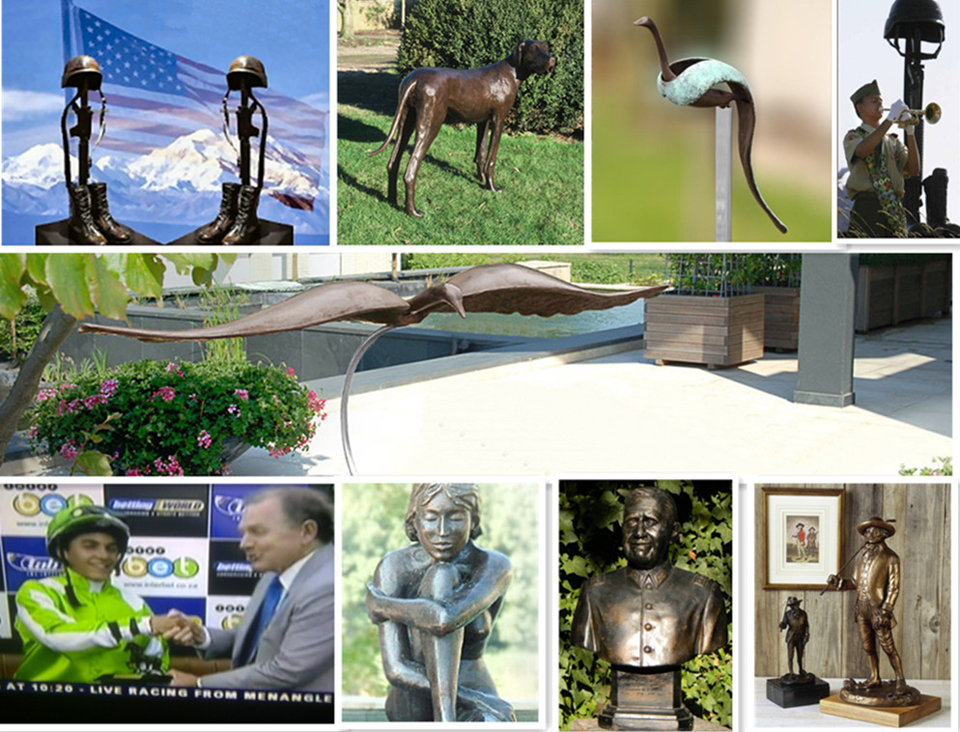 1 How can I be sure that I get what I pay for or that the sculpture even arrives?
Homey Sculpture is a Limited company of the China registration number 330381000106689. We have been in domestic and foreign trading since 2008 and have had hundreds of happy customers. We strictly adhere to all regulations for China Limited companies. We are a golden supplier of made-in-china.com

2 What are your main advantages?
a.Many years' export experience to lower your risk to greatest extent.
b.Better Q&C System to guarantee high quality. Our sales and directors will supervise the purchase of material and production process. We will always informe you the latest news. Without your satisfaction, we will never let them be packed.
c. With rich experience in design, we can give you many useful advice.
d. With rich experience of sculptors and skillful craftsmen in bronze to show you our great production capability.
3 Do you accept retail order? What is the minimum quantity you require?
Yes, we do accept retail order. We sell to private collectors, shopping centers,libraries,Museums,Developers, Galleries and public agencies.Wholesaler, retailer and individual, with different price policy. MOQ is flexible.
4 Do you also make customized design?
Yes, custom orders are warmly welcomed. We always quote and produce according to clients design.
5 What is your port of loading?
All our products are shipped from Ningbo or Shanghai port.
6 How long can my order be finished? How soon can I get my ordered products?
1) Normally one container order needs 30 days.
2) Transportation duration information:
West European main port: 27 days
Felixstowe / Belfast / South Ampton: 40 days
Dublin: 35days
Western coast of America: about 18 days
Eastern coast of America: about 30 days
Other destinations, please email us to get our answer.
7 Are you sure the packing will be excellent? If damage happens during the transportation who will be responsible for that?
We use strong wooden crates outside and plastic film inside. You are assured that our packing is safe enough. In addition, we will buy "all risks" insurance as per your requirement. In the case of damage, firstly you can refer to the insurance company to claim the damage. Any damage occurred due to the fault of packing, our company will take full responsibility, such as refund or reproduce.
8 What is your acceptable payment?
Usually, we have the following two kinds of payment terms:A: T/T (Telegraphic Transfer): 30% as deposit, and you should pay us your balance after we fax or email you B/L draft. The detailed operation course is as following:We will arrange production upon receipt of 30% advanced payment. After finish production and loading container, we will email you Commercial Invoice, Packing List and draft of Bill of Lading, and then you shall pay the balance at your earliest conveniences. We will send original shipping documents to you upon receipt of balance for you to pick up the goods timely.B: Irrevocable L/C at sight.
9 Order Procedure
Selection of products and specify the dimensions
2. Estimation and quotation on products, shipping and insurance cost.
3. Confirmation about the order information (quantity, price, delivery time, payment terms etc.)
4. Down payment to be sent or L/C to be set up. Fax bank statement as confirmation.
5. Production by our factory. Inspection of the finished products (also available for clients coming to our factory and inspecting ).
6. Packing, transport, make shipment to your nearest port or your destination. Submit the relevant documents (invoice, packing list, bill of lading) to the bank or fax them directly to clients to require the balance's payment.

10 If I haven't done the import business before, how to do the import business?
1)Find the products you're interested in.
2)Establish a relationship with potential suppliers. Select a few potential suppliers to communicate with and discuss the price and trade relationship. Gradually discuss shipping and payment terms. Gather all necessary information to prepare for placing an order.
3)Understand trade terms and use them. Before placing any order, you need to understand and confirm with your suppliers about shippment terms, such as FOB and CIF, as well as payment terms. You can consult an import management company and a freight forwarder for detail break-down on the costs and risks. You can also use an import management company to negotiate the trade terms.
4) Do your homework on compliance issues. You need to understand the relevant import compliance regulations beforehand. It is highly recommended to consult a good customs house broker before placing any order.
5) Select a forwarder and customs house broker. For the first time,use more individualized services, because you need more attention than you would expect.
6) Place a trial order with a written purchase order if everything goes well.
7) Appoint an inspection company to check your goods on site in the factory, and give you a detailed report or we can send you the photos when the goods arefinished.
8) Track the transportation and customs clearance. Your forwarder and customs broker should take care of your transportation and customs clearance.
9) Receive the products and you can go to your next step to sell your products and make profit.